1. Facts About the Dangers of Homosexuality

2. Facts About the Dangers of Homosexuality
(From Sources You'll Probably Dismiss Out of Hand)

3. Homosexuality and Paedophilia

4. Homosexual Indoctrination

5. Heterosexual Oppression By Homosexuals and Their Supporters

6. Homosexuality is a Choice

7. Homosexuality is Degenerate

8. Christianity's Beliefs on Homosexuality

9. Transgenderism


---
1. Facts About the Dangers of Homosexuality
Abused 'More Likely to Be Gay'
Children who are sexually abused or raped are three times more likely to grow up to be gay or bisexual, a controversial new Christchurch study shows.
CDC: 94 to 95 Percent of HIV Cases Among Young Men Linked to Gay Sex
Drug Use "Seven Times Higher" Among Homosexuals
Figures suggest that gay people are seven times more likely to take illegal drugs than the general population, with one in five of those surveyed showing signs of dependency on drugs or alcohol.
Higher Risk of Mental Health Problems for Homosexuals
"Finally, our results add to evidence that sexual experiences in childhood in men classified as gay or bisexual may play a role in adult psychological adjustment," they conclude.
HIV Among Homosexual and Bisexual Men
Gay and bisexual men are more severely affected by HIV than any other group in the United States.
From 2005 to 2014, HIV diagnoses decreased in the United States by 19% overall, but increased 6% among all gay and bisexual men, driven by increases among African American and Hispanic/Latino gay and bisexual men.
Over the past 5 years (2010-2014), the increase in HIV diagnoses among all gay and bisexual men was less than 1%, although progress has been uneven among races/ethnicities.
How Different are the Adult Children of Parents who Have Same-Sex Relationships?
visually enhanced version:
I am Lewis, the child of gay parents, and this is my experience of gay parents.
My experience of living with gay parents was totally negative and it left me emotionally scarred. I feel that my upbringing was both confused and confusing, and that there was a great void in my life that needed to be filled and never was. I did not feel loved at any stage.
One in Five Homosexual, Bisexual Men in U.S. Cities Has HIV
Researchers at the CDC studied 8,153 men who have sex with men in 21 U.S. cities. The men were taking part in the 2008 National HIV Behavioral Surveillance System, which looked at prevalence and awareness of the human immunodeficiency virus or HIV, the virus that causes AIDS.
Overall, they found that 19 percent of gay men are infected with HIV.
Study: HIV Rates in Gay Black Men Are Alarmingly High
A study of black gay and bisexual men in six U.S. cities finds that rates of HIV are increasing at a troublesome pace: each year, nearly 3% of gay black men become infected with HIV, a 50% higher rate than among their white counterparts.
Statistics on Sexual Promiscuity Among Homosexuals
28% of homosexual men had more than 1000 partners
79% of homosexual men say over half of sex partners are strangers
Modal range for homosexual sex partners 101-500
1978 study, 78% of gay men ad more than 100 partners, 28% more than 1000
There is an extremely low rate of sexual fidelity among homosexual men as compared to married heterosexuals.
Between 2014 and 2015, the number of reported primary and secondary (P&S) cases in the United States increased by 19%, and there were 23,872 P&S syphilis cases reported in 2015. Most (60%) of these cases were among MSM.
Viral Hepatitis Populations - Men Who Have Sex with Men
Among adults, an estimated 10% of new Hepatitis A cases and 20% of new Hepatitis B cases occur in MSM.
MSM are at increased risk for Hepatitis C if they are involved in high-risk behaviours.
Domestic violence a 'silent epidemic' in gay relationships
Domestic violence has become a "silent epidemic" in the gay and lesbian community despite being the subject of increasing scrutiny in heterosexual relationships, according to the AIDS Council of NSW.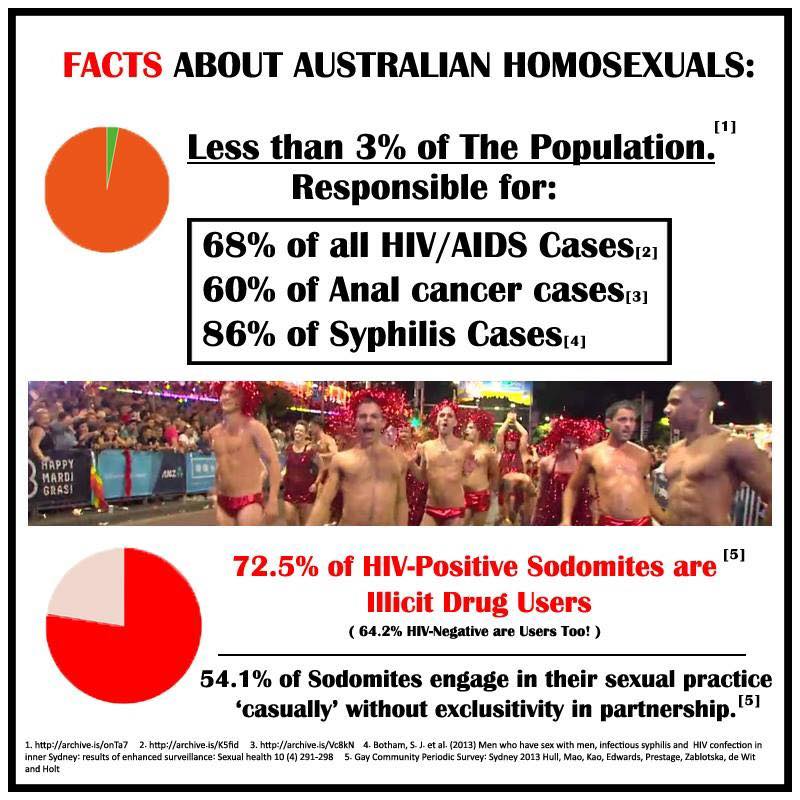 Dear Gay Community: Your Kids Are Hurting
Growing up, and even into my 20s, I supported and advocated for gay marriage. It's only with some time and distance from my childhood that I'm able to reflect on my experiences and recognize the long-term consequences that same-sex parenting had on me. And it's only now, as I watch my children loving and being loved by their father each day, that I can see the beauty and wisdom in traditional marriage and parenting.



2. Facts About the Dangers of Homosexuality
(From Sources You'll Probably Dismiss Out of Hand)
Deadly Meningitis Outbreak Hits NYC Gay Community
America Blog journalist John Aravosis feels that bigotry and hatred helped "fuel" the meningitis threat now experienced by NYC gay men.
Everyone Should Know These Statistics on Homosexuals
73% of psychiatrists say homosexuals are less happy than the average person, and of those psychiatrists, 70% say that the unhappiness is NOT due to social stigmatization.
25-33% of homosexuals and lesbians are alcoholics
78% of homosexuals are affected by STDs
50% of suicides can be attributed to homosexuals
37% of homosexuals engage in sadomasochism, which accounts for many accidental deaths. In San Francisco, classes were held to teach homosexuals how to not kill their partners during sadomasochism.
41% of homosexuals say they have had sex with strangers in public restrooms, 60% say they have had sex with strangers in bathhouses, and 64% of these encounters have involved the use of illegal drugs.
Gay Youths 148% More Likely to Be Physically Abused in Relationships: DOJ-Funded Report
A homosexual publication reported that the groundbreaking report, which was funded by a grant from the Justice Department, found:
43 percent reported being victims of physical dating violence, compared to 29 percent of heterosexual youth;
59 percent reported emotional abuse, compared to 46 percent of heterosexual youth;
37 percent reported digital abuse and harassment, compared to 26 percent of heterosexual youth;and
23 percent reported sexual coercion, compared to 12 percent of heterosexual youth.
HIV+ Homosexual Men 9000% More Likely to Develop Anal Cancer
The study was based on data from 244 patients at the University of California - Los Angeles (UCLA) CARE clinic who had anal cytology screenings (similar to a pap smear) between February 2002 and December 2004.
Men Having Sex with Men at Far Greater Risk for Cancer, STD's, Infections
Researchers examined 47 reports that merited inclusion in their study of sexual orientation and cancer rates. They found that the majority of the reports agree that MSM is a significant risk factor for cancer.
Is Homosexuality a Health Risk?
Even a pro-homosexual organization such as the Gay and Lesbian Medical Association (GLMA) cannot help but acknowledge the heightened health risks experienced by homosexuals. In twin press releases in 2002, the GLMA highlighted "ten things gay men should discuss" and "ten things lesbians should discuss with their health care providers." Yet they could just as easily have been labelled "top ten reasons why homosexuality is harmful to your
health."
Study Confirms Gay Life Expectancy Twenty Years Shorter
A new study which analyzed tens of thousands of gay obituaries and compared them with AIDS deaths data from the Centers for Disease Control (CDC), has shown that the life expectancy for homosexuals is about twenty years shorter than that of the general public. The study, entitled "Gay obituaries closely track officially reported deaths from AIDS", has been published in Psychological Reports (2005;96:693-697).
Syphilis Rates Soar 134% Among Homosexual Black Men
The U.S. Center for Disease Control's (CDC) most recent data on the spread of sexually transmitted diseases reveals that among homosexual black men the syphilis rates rose a staggering 134% between 2009 and 2010. During the same time frame, syphilis rates among the general population fell by 1.6%.
Trends in incidence of anal cancer in Denmark
The distribution and incidence of anal cancer have changed appreciably since around 1960, especially among women, which indicates important aetiological changes. Changes in sexual behaviour may have facilitated the spread of a transmittable agent of aetiological importance. It has recently been suggested that cigarette smoking promotes anal cancer, and this finds indirect support in the synchronism between changes in anal cancer incidence and heavy smoking behaviour. Factors associated with homosexuality are likely to explain some of the cases among men.
Human papillomavirus, smoking, and sexual practices in the etiology of anal cancer
The incidence of anal cancer has increased among both men (160%) and women (78%) from 1973 to 2000 in the U.S [...] Sexual orientation was related strongly to risk of anal cancer, with 47.1% of male cases reporting that they were not exclusively heterosexual.



3. Homosexuality and Paedophilia
Abuse by Priests, Homosexuality, Humanae vitae, and a Crisis of Masculinity in the Church
While at most 2–3 percent of the male population are homosexually oriented, 20–40 percent of child and minor sexual molestations are homosexual; hence the probability that the average homosexual man molests a minor is 10–20 times higher than that of the average heterosexual man. Of the sexual abuses by foster fathers reported for 1997–2002 by the Illinois child services, 14 percent involved an adoptive boy (2–3 percent would be expected); another study gave a higher percentage. Regarding same-sex molestation of (young) adult men, a military statistic is indicative: 10 percent of sexual assaults in the military (2007–2009) were homosexual, 4–5 times more than expected if 2–3 percent of the military are homosexual. As for priests (and seminarians), even if as many as 20 percent were attracted to boys and adolescents (1950–2002), these produced four times more abuses than their heterosexual colleagues.
Heterosexual, Lesbian, and Gay Preadoptive Parents' Preferences About Child Gender
Heterosexual men were the least likely to demonstrate a gender preference and gay men were the most likely. Individuals in heterosexual relationships were more likely to prefer girls than individuals in same-gender relationships. In explaining their preferences, sexual minorities often emphasized gender socialization considerations (e.g., their perceived inability to socialize a child of the opposite gender) and concerns about heterosexism (e.g., some gay men preferred girls because they felt a boy would encounter more harassment).
Clerical sex abuse will continue until Church confronts problem of homosexual bishops and priests
Statistics provided by the U.S. Catholic Conference of Bishops as recently as 2016 and 2017 have consistently shown that the clerical sex abuse crisis is owing to a homosexual clergy. In spite of this well-established fact, the Vatican does little to remove such men from the priesthood or even speak out on the issue.
Children of homosexuals more apt to be homosexuals?
Percentages of children of gay and lesbian parents who adopted non-heterosexual identities ranged between 16% and 57%, with odds ratios of 1.7 to 12.1, depending on the mix of child and parent genders. Daughters of lesbian mothers were most likely (33% to 57%; odds ratios from 4.5 to 12.1) to report non-heterosexual identities.
Thus, evidence is presented from three different sources, contrary to most previous scientific opinion, even most previous scientific consensus, that suggests intergenerational transfer of sexual orientation can occur at statistically significant and substantial rates, especially for female parents or female children. In some analyses for sons, intergenerational transfer was not significant.
Pedophiles Want Same Rights as Homosexuals
Sex offender laws protecting children have been challenged in several states including California, Georgia and Iowa. Sex offenders claim the laws prohibiting them from living near schools or parks are unfair because it penalizes them for life.
Child Molestation and Homosexuality
Not only is the gay rights movement upfront in its desire to legitimize sex with children, but whether indexed by population reports of molestation, paedophile convictions, or teacher-pupil assaults, there is a strong, disproportionate association between child molestation and homosexuality. The assertion by gay leaders and the American Psychological Association that a homosexual is less likely than a heterosexual to molest children is patently false.
Couple offered son to paedophiles
Standing before an American court convicted of the most heinous of child sex crimes, Australian citizen Mark Newton and his long-term boyfriend Peter Truong had their double lives laid bare.
Moments later Newton was sentenced to 40 years in prison for sexually abusing the boy he and Truong, 36, had ''adopted'' after paying a Russian woman $8000 to be their surrogate in 2005.
The abuse began just days after his birth.
Over six years the couple travelled the world, offering him up for sex with at least eight men, recording the abuse and uploading the footage to an international syndicate known as the Boy Lovers Network.
Evil guest house owner who raped boys with his husband jailed for 15 years
Aspin told the frightened child "don't worry, don't panic", adding "you know you're probably gay don't you?" then made him perform sex acts.
Seattle's homosexual mayor faces multiple child rape allegations
Delvonn Heckard says Murray "raped and molested" him as a teenager. Lloyd Anderson made a similar accusation against Murray in 2007. Jeff Simpson has repeatedly stated that Murray anally raped him for three years while he was Murray's foster son in the 1980s, starting when he was 13.
Why gay men love this photo of Prince George looking fabulous
As a man who was visibly gay from a young age, the distinctly feminine image of George smiling as he delicately places his hands on his face instantly struck a chord with me. In fact, an almost identical photograph of five-year-old me happily playing in the garden is hung on my parents' kitchen wall. Since the photos appeared online, thousands of other gay men have remarked that the innocence of this image reminds them of childhood. In one viral tweet, the picture is accompanied by the caption: "When mom said I could finally quit the soccer team." Another user remarks: "Me walking past the Barbies at Toys 'R' Us as a child."
Daughter of famed sci-fi author reveals sexual horrors she suffered growing up in LGBT home
"I had both biological parents in the home, but both refused to act like traditional parents," writes Greyland. "I needed my father to protect me and to see me as a girl instead of refusing to protect me and seeing me as an amorphous nothing who competed with him for boys. I needed my mother to love me and hold me and comfort me instead of being a terrifying, angry dictator. Worse than that, I was expected to not want them to love me and protect me, or to act like normal parents. I was supposed to be happy that they were doing their own thing, no matter what they did to us."



4. Homosexual Indoctrination
I Have Come to Indoctrinate Your Children Into My LGBTQ Agenda (And I'm Not a Bit Sorry)
I am here to tell you: All that time I said I wasn't indoctrinating anyone with my beliefs about gay and lesbian and bi and trans and queer people? That was a lie. All 25 years of my career as an LGBTQ activist, since the very first time as a 16-year-old I went and stood shaking and breathless in front of eleven people to talk about My Story, I have been on a consistent campaign of trying to change people's minds about us. I want to make them like us. That is absolutely my goal. I want to make your children like people like me and my family, even if that goes against the way you have interpreted the teachings of your religion. I want to be present in their emotional landscapes as a perfectly nice dad and writer who is married to another guy. Who used to be a girl (kind of). Who is friendly and cheerful and not scary at all, no matter what anyone says.
Homosexuality: The Mental Illness That Went Away
Then in 1970 gay activists protested against the APA convention in San Francisco. These scenes were repeated in 1971, and as people came out of the "closet" and felt empowered politically and socially, the APA directorate became increasingly uncomfortable with their stance. In 1973 the APA's nomenclature task force recommended that homosexuality be declared normal. The trustees were not prepared to go that far, but they did vote to remove homosexuality from the list of mental illnesses by a vote of 13 to 0, with 2 abstentions. This decision was confirmed by a vote of the APA membership, and homosexuality was no longer listed in the seventh edition of DSM-II, which was issued in 1974.
A Boys' Camp to Redefine Gender
The camp, "You Are You" (the name has been changed to protect the privacy of the children and is also the name of Morris' series), is for "Parents who don't have a gender-confirming 3-year-old who wants to wear high heels and prefers to go down the pink aisle in K-Mart and not that nasty dark boys' aisle," Morris said with a laugh.
"My wife and I have religious beliefs that say to us it's a sin," David Parker said. He's referring to four pages in a book his 5-year-old son was given by his Massachusetts kindergarten teachers.
The book "Who's In a Family" -- included in a "diversity book bag" for students at Estabrook Elementary School -- is about all kinds of families, including multi-racial, single parent and, to Parker's chagrin, same-sex parents.
ABC Hires Gay Activist to Write Eight Hour Miniseries About the History of the Gay Rights Movement
Homosexual writer and director Dustin Lance Black will write the miniseries. Its timeline will reportedly begin with the 1969 Stonewall Riots, in which a police raid on a gay bar resulted in several nights of violent demonstrations by homosexuals in New York City. The miniseries is expected to air sometime just before the holiday season.
Can We Please Just Start Admitting That We Do Actually Want to Indoctrinate Kids
They accuse us of exploiting children and in response we say, "NOOO! We're not gonna make kids learn about homosexuality, we swear! It's not like we're trying to recruit your children or anything." But let's face it—that's a lie. We want educators to teach future generations of children to accept queer sexuality. In fact, our very future depends on it.
CBS Execs Meet with Transgender Activists to Promote Positive TV Portrayals
Unhappy with "problematic" portrayals of transgender characters on fictional CBS television shows, homosexual activist group GLAAD recently descended on the network's headquarters to air their complaints in a meeting attended by CBS Entertainment President Nina Tassler and at least a dozen senior executives.
FCKH8 is Mailing 10,000 Pro-Gay Coloring Books to Kids in Russia During the Olympics
Lesbian, gay, bisexual and transgender (LGBT) clothing and accessory company FCKH8 is launching a new campaign that will send 10,000 Russian children pro-gay coloring books during the 2014 Sochi Winter Olympics.
Grammys to Feature On-Air Weddings of 34 Couples
The producers behind the program, which is to be broadcast live by CBS at 8 p.m., are hoping that the biggest show-stopper of the night will be a much more solemn event: an on-air wedding of 34 couples — gay, straight, old, young, of many races and many colors. The ceremony will be part of the hip-hop duo Macklemore & Ryan Lewis's performance of their Grammy-nominated song "Same Love," which became a marriage-equality anthem last year just as that issue was drawing intense national attention.
Homosexual Activist Admits True Purpose of Battle is to Destroy Marriage
Media Exposure and Viewers' Attitudes Toward Homosexuality
The Results support evidence of a mainstreaming effect, whereby increased media exposure may draw groups with disparate attitudes towards a more similar viewpoint on homosexuality.
The Real Homosexual Agenda is on Your TV and Movie Screens
Humans are very impressionable and easily led by the liberal media. Television shows and movies have been a powerful weapon in Satan's arsenal to erode godly morals among the American populace.
Oprah Winfrey, who influences millions, promoted homosexuality when she made a cameo appearance on Ellen DeGeneres' "Coming Out" Episode. Since Oprah claims to be a Christian when in fact she is a new ager, she has duped God only knows how many biblically uninformed Christians on the issue.
Study: Watching Porn Boosts Support for Homosexual Marriage
The study, conducted by co-authors Paul Wright of Indiana University and Ashley Randall of the University of Arizona, proposes that exposure to pornography helps open the minds of straight males — particularly less-educated straight males — making them more likely to accept the idea of "non-traditional sexual situations," the Washington Examiner reports.
UN Makes History on Sexual Orientation, Gender Identity
The United Nations Human Rights Council, in a defining vote, adopted a resolution on June 30, 2016, on "Protection against violence and discrimination based on sexual orientation, and gender identity," to mandate the appointment of an independent expert on the subject. It is a historic victory for the human rights of anyone at risk of discrimination and violence because of their sexual orientation or gender identity, a coalition of human rights groups said today. This resolution builds upon two previous resolutions, adopted by the Council in 2011 and 2014.
President Trump calls out mainstream media for failing to cover March for Life
Networks Cover Women's March 129x More Than March for Life
During their morning and evening news shows, the three broadcast networks (ABC, CBS, NBC) covered the women's march 129 times more than they did the 2016 March for Life last year. And it's anyone's guess as to whether or not they will cover the 2017 March for Life Friday.
Lesbian teacher: How I convince kids to accept gay 'marriage', starting at 4 years old
A primary grade lesbian teacher from an Ontario public school revealed in a workshop at a homosexual activist conference for teachers earlier this month how she uses her classroom to convince children as young as four to accept homosexual relationships.



5. Heterosexual Oppression By Homosexuals and Their Supporters
National Trust volunteers banished to back room chores if they refuse to wear gay pride rainbow flag
Bosses at Felbrigg Hall in Norfolk wrote to their army of volunteers asking them to all wear a lanyard or badge displaying the rainbow flag to welcome lesbian, gay, bisexual, transgender and queer visitors. The email, seen by The Telegraph, reveals that those who refused would not be allowed to meet and greet guests to the 17th Century hall.
Same-sex "Marriage" and the Persecution of Christians in Canada
Opponents of same-sex "marriage" were given all kinds of assurances. The preamble to the Civil Marriage Act states that "everyone has the freedom of conscience and religion," "nothing in this Act affects the guarantee of freedom of conscience and religion and, in particular, the freedom of members of religious groups to hold and declare their religious beliefs," and "it is not against the public interest to hold and publicly express diverse views on marriage."
But how quickly things change. Since the watershed moment of legalization, Canadian social norms have shifted rapidly, and what was once considered fringe or debateable has become the new normal.
Today, different opinions on "gender identity" and same-sex "marriage" are no longer tolerated. Our society is sweeping away respect for religious faiths that do not accept and celebrate same-sex "marriage," and the Civil Marriage Act's assurances seem merely farcical. It is not premature to speak of open discrimination against Christians in Canada.
Storm as Law Society bans conference debating gay marriage
The Law Society has banned a conference on family issues to be addressed by a senior High Court judge because debating gay marriage breached its "diversity policy".
Govt To Introduce Temporary $12,000+ Fines For Same Sex Marriage Hate
The Federal Government's set to pass temporary laws that'll safe guard against hate speech during the same sex marriage survey.
The laws will last through until mid-November, when a result is expected from the voluntary public vote.
It'll mean anyone or any group caught vilifying, intimidating or threatening someone based on their sexual orientation, gender identity, intersex status or religious beliefs could be fined up to $12,600 and a court date. It will apply specifically to people creating advertising for or against marriage equality.
Woman Raised by Lesbian Couple: 'I Ached Every Day For a Dad'
Barwick, who is 31 now, married, and has four children, said that "same-sex marriage and parenting withholds either a mother or father from a child while telling him or her that it doesn't matter. That it's all the same. But it's not."
"A lot of us, a lot of your kids, are hurting," wrote Barwick in her essay for The Federalist website. "My father's absence created a huge hole in me, and I ached every day for a dad. I loved my mom's partner, but another mom could never have replaced the father I lost."
Air Force Sergeant Claims He was Fired for Refusing to Endorse Gay Marriage: Faces Court Martial
An Air Force sergeant who filed a discrimination complaint with the U.S. military claiming he was fired by his lesbian commander for refusing to make a statement of support for same-sex "marriage" may now face prosecution for taking his accusations public
Chaplains Group Investigating Claims Army Threatened Chaplain Over Facebook Post on Homosexuality
A group advocating freedom of religion in the military is investigating claims that a young Army chaplain's assistant has been reprimanded by her commanding officer and threatened with rank and pay reductions for expressing religious opposition to homosexuality on her personal Facebook page.
'Duck Dynasty' Star Suspended for Anti-Gay Remarks
Phil Robertson, a star of A&E's "Duck Dynasty," has been suspended indefinitely after slamming gays in a magazine interview.
Fox Sports Football Announcer Fired Over 2011 Remarks on Homosexuality
During a Republican primary debate for the Texas nomination, James criticized one of his opponents, former Dallas Mayor Tom Leppert, for marching in gay pride parades, saying, "I think right now in this country, our moral fiber is sliding down a slope that is going to be hard to stop if we don't stand up with leaders who don't go ride in gay parades. I can assure you I will never ride in a gay parade. And I hear what you're saying, Tom, but leaders - our kids out there, people need to see examples."
Gay Activists Launch Complaint Against Teacher Who Included Homosexuality on List of Possible Sins
According to the complaint, made to the National Anti-discrimination Office of the Ministry for Equal Opportunities, the teacher handed out a questionnaire to students asking them to rank from 0 to 10 the gravity of sinfulness of a list of activities, including, "Selling drugs, pollution, war, terrorism, murder, contraceptive methods, abortion, premarital experiences [that lead to] AIDS infection and homosexuality".
Gay Couple Suing Church for Refusing Wedding
Less than two weeks after the coalition government's gay "marriage" bill was signed into law, a homosexual man has launched a lawsuit against a Church of England parish in Maldon for refusing him and his civil partner the lavish church wedding of their dreams. Barrie Drewitt-Barlow told the Essex Chronicle that he has launched the suit because, despite the law, "I am still not getting what I want."
Gay Lawsuits Target Bed and Breakfasts, Churches Nationwide
A series of lawsuits and a new court ruling are fresh examples of how laws granting marriage benefits to gay couples can end up squashing religious liberty, says a Christian attorney involved in one of the cases.
All four cases involve states with gay "marriage" or same-sex civil unions laws: Illinois, Vermont, Hawaii and New Jersey. In Vermont and Illinois, bed and breakfast owners were sued for declining to host a same-sex ceremony or reception, and in Hawaii, a bed and breakfast owner was sued after turning away a lesbian couple who wanted to make a reservation.
In New Jersey, a state judge ruled Jan. 12 that a Christian beachfront property operated by United Methodists violated state non-discrimination laws when it refused to host a lesbian couple's civil union ceremony.
Amsterdam Chief Rabbi Suspended for Gay Stance
Amsterdam – The Orthodox Jewish community of Amsterdam suspended its US-born chief rabbi on Tuesday for cosigning a declaration which said homosexuality was a "treatable" inclination.
Rabbi Aryeh Ralbag told The Jerusalem Post on Wednesday that he found it "scandalous that a chief rabbi cannot state the Torah viewpoint for his community without being penalized."
Girls Threatened With Hate Crime Charges for Complaining About Transgender Bathroom Harassment
When the female students continued to complain about the harassment, the school threatened to kick them off the athletic team or even hit them with hate crimes charges if they didn't stay silent.
New Mexico Supreme Court: Christian Photographers Must Shoot Homosexual Commitment Ceremony
The high court ruled that Elaine Huguenin and her husband, Jon, violated a lesbian couple's human rights by refusing to photograph their "commitment ceremony."
Idaho City To Christian Pastors: Perform Same-Sex Weddings Or Face Jail
The city of Coeur d'Alene, Idaho, is taking a step many opponents of same-sex marriage feared would come – forcing those with religious objections to perform same-sex marriages or risk facing prosecution for violating non-discrimination laws.
Houston's Pastors Outraged After City Subpoenas Sermons Over Transgender Bill
Houston, with its left-leaning, openly gay mayor governing an influential conservative and evangelical base, is a city politically divided. That division has been made clear in recent days after the city subpoenaed sermons of several pastors who oppose a recently passed equal rights ordinance for gay and transgender residents. The subpoenas are an attempt by city officials to determine how the preachers instructed their congregants in their push to get the law repealed.
Adoption, Foster Care, and Conscience Protection
Catholic adoption agencies in Britain and some US states have been forced to close for not placing children with same-sex couples: Catholic Care (UK), Boston Catholic Charities, DC Catholic Charities and Evangelical Child Family Services in Illinois



Judge Orders Baker to Serve Gay Couples Despite His Religious Beliefs
A Colorado judge says a baker who refused to make a wedding cake for a same-sex ceremony must serve gay couples despite his religious beliefs, a ruling that a civil rights group hailed as a victory for gay rights.
Portland Bar Owner Must Pay $400K for Kicking Transgender Patrons Out of Bar
Chris Penner, the owner of the Twilight Room Annex, has to pay 11 transgender patrons the hefty sum after asking them to stop coming to his bar.
Scottish Man Fined $62K for 'Homophobic' Twitter Message
The Court of Session in Edinburgh has fined a Scottish man £40,000 ($62,020 U.S.) in damages after he sent a message on Twitter calling a lesbian same-sex "marriage" advocate "a danger to children."
Student Suspended for Saying Homosexuality is Wrong
Students Suspended for Wearing Confederate Flags to Protest Gay Rainbow Flag
An unnamed school district spokesman said that a sophomore had been exhibiting a gay-pride flag at Tahoma High for the last two weeks, reports local CBS affiliate KIRO. When the two juniors showed up on Tuesday in a common area wearing the Confederate flags as a political statement in response, they were suspended.
School officials said the Confederate flags caused a disruption because some students were upset. The officials added that the garb was an undisclosed violation of the Tahoma High dress code.
Transgender Anchor Sues BET for $2.5 Million Because He Couldn't Host Segment in Drag
Cross-dressing internet gossip columnist and sometime-television personality Brandon Sessoms, who goes by the stage name B. Scott, has filed a $2.5 million gender discrimination lawsuit against Black Entertainment Television (BET) after the network demanded he wear "masculine" attire at a recent awards show.
This case is akin to a meat-eater suing a vegetarian restaurant for not offering him a rib-eye, or a female patient suing a vasectomy doctor for not providing her hysterectomy services. But rather than defend the persecuted business, the New Jersey attorney general intervened on behalf of the gay plaintiff and wrangled an agreement out of eHarmony to change its entire business model.
Transgender Man Wins Complaint Against Bridal Shop for Not Letting Him Try on Wedding Dress
Rohit Singh, a student from India who came to Canada in 2010, filed a complaint against Jenny's Bridal Boutique after the owner of the shop refused to allow him access to the women's changing room.
College Allows Transgender Man to Expose Himself to Young Girls
A Washington college said their non-discrimination policy prevents them from stopping a transgender man from exposing himself to young girls inside a women's locker room, according to a group of concerned parents.
The Curious Case Of August Ames
UK university bans 'politically incorrect' research into gender reassignment reversal



6. Homosexuality is a Choice
Identical Twin Studies Prove Homosexuality is No Genetic
"At best genetics is a minor factor," says Dr. Neil Whitehead, PhD. Whitehead worked for the New Zealand government as a scientific researcher for 24 years, then spent four years working for the United Nations and International Atomic Energy Agency. Most recently, he serves as a consultant to Japanese universities about the effects of radiation exposure. His PhD is in biochemistry and statistics.
If we continue to fight misplaced compassion toward homosexuals, we cannot win. If instead we disseminate and utilize evidence that "born gay" doesn't make any sense, we cannot lose. If the logic in this commentary piece is widely dispersed and applied, it could cripple the homosexual agenda, ideology and social/political influence.
---
7. Homosexuality is Degenerate
Kneeling over the bench were several naked men. I couldn't see their heads or faces; only their upraised backsides. For a few seconds, I stood motionless. This was it. I reached the culmination of my deepest desires. The literal end for every gay man – on their knees, holding apart your butt cheeks, hoping some man will appear. Only, this imagined encounter with the transcendent, with God, finishes like the male sex act – with a deflating dip in androgen levels verging on depression. It leaves everyone wondering.

As a result, gay men unconsciously try to sacrementalize gay sex. And in their desperation, everything becomes a sort of black mass. "Queer" theoretician and historian Michael Bronski once remembered how the pre-AIDS era gay sex clubs of San Francisco became "a church," and to him: "startling and sacred, even holy."
My quest for acceptance, love, and manhood remained entirely and hopelessly incomplete. I ended almost exactly where I began; I stood at nearly the same point in space – ten years later. But I was still scared. As for the boy, he never left me. Being gay, and having sex with men, didn't make him into a man. He was still searching and he took me along for the ride. Except my body was breaking down. Early that morning, I would stumble half-dazed from a gay sex-club. I collapsed into the gutter. I vomited blood and the violent stomach contractions caused my colon to completely empty its contents. I reached into my underwear – I was bleeding internally. My life was streaming out from both ends. Where I thought there existed a doorway into the sublime, I had kicked-open the gaping passageway to death. This was my final humiliation. If heaven meant some sort of afterlife and hell was an immediate and everlasting conclusion to this torture, I chose damnation.
For what seemed like hours, I laid on the hard hospital gurney. I rang for the nurse, but the place was a flurry of activity; next to me, separated by a thin privacy screen, were a pair of teenagers: one suffering from an overdose of prescription pills and the other with a severe pelvic infection due to an untreated STD. This was purgatory. I had to use the toilet, so I shuffled across the freshly waxed floors towards the restroom. On the way back to my bed, I left a trail of little red dots behind me. This wasn't an intermediate state between heaven and earth – it was hell. I had died and been sent to suffer an eternity as a character in a perverse fairy-tale – the boy with a broken bottom. To the great consternation of the attending doctor and nurses, I checked myself out of the hospital and went home.
ABC's 'Bachelor' Juan Pablo Galavis Says Gays Shouldn't Be on the Show
"They're more pervert in a sense. To me, the show would be too strong, too hard to watch on TV," said the reality star.
Bug Chasing: Why Some Men Want to Become HIV Positive
The reckless practice, known as bug chasing, started in the US as a bizarre means of getting a sexual high from risk-taking.
Now, according to one man who willingly caught the virus, hundreds of men in the UK are introducing themselves on online forums, Face­book groups and Twitter.
"I get my liver function tests every three months, my cholesterol tested regularly and I get loads of general health checks so if there are any underlying conditions I know straight away. Even better, I get it all on the NHS."
Dallas: Police and Pride Organizers Say No 'Lewdness' or Nudity
Activist Daniel Cates alleges that the rules are a bid to "accommodate comfort for the increasing number of attending heterosexuals and corporate sponsorship . . . no bare asses, no breasts (even with pasties), no tight underwear on dancers, nothing too political at all."
The report you are about to view of the 2007 Folsom Street Fair in San Francisco contains newsworthy images of people engaged in sexual behaviour in public. Although these images are not intended to be pornographic, some people may regard them as such. Because of this, only adults age 18 or over may view the images on the following page.
This page features a photo essay about the 2008 "Up Your Alley" Fair -- a free, open-to-the-public street festival held in San Francisco on July 27. Up Your Alley -- which until recently was called the Dore Alley Fair -- is very similar to the larger and more well-known Folsom Street Fair, in that they are both held to celebrate the leather and fetish scene in the gay community. While Folsom is internationally known and draws visitors from all over the world, Up Your Alley is thought of more as the fetish event "for locals," and because of that it is smaller, has fewer retail vendors and booths, and generally flies under the radar.
Gay Student to Lose His Virginity in Live Sex Performance for Art
Clayton Pettet, a 19-year-old art student at Central Saint Martins College of Arts and Design in London, plans to have gay sex in front of a crowd of between 50 and 100 people in London on Jan. 25, 2014, for a project called "Art School Stole My Virginity," according to the Daily Star. He and his anonymous partner will have sex until completion and then hold a Q&A with the audience afterward.
Inside the Meth-Fueled, Week-Long Orgies Plaguing London's Gay Scene
London's gay sex party scene is being "ravaged" by the popularity of "slamming parties," meth-fueled, week-long orgies linked to increased incidents of drug addiction and HIV infection.
Jizz on the Rocks: Introducing Semen-Infused Cocktails
This is the ultimate handbook for mixologists looking for ingredients that go beyond exotic fruit juices and rare spirits. Driven by a commitment and passion for the freshly harvested ingredient, Semenology pushes the limits of classic bar tending. Semen is often freshly available behind most bar counters and adds a personal touch to any cocktail. The connoisseur will appreciate learning how to mix selected spirits to enhance the delicate flavours of semen. The book provides useful tips that cover every detail of Semenology, from mixing and presentation to harvesting and storage advice.
Two Men, 58 Years and Counting. A Love Story.
"Unbelievable," he said. "And the toilets in the subways? in those days if you travelled, say, 14th Street to 59th Street, you had to make at least three stops on the way, to check out every toilet. "And there was always gay activity going on in the toilets. And I think it cost a nickel to get in in those days."
Vancouver Police, Officials Would Not Uphold Laws Against Public Nudity at Pride Parade
While reports about this year's August 4 gay parade mention only "scantily-clad revellers" and "skimpy attire," last year's parade was attended by a group of men called Foreskin who exposed their genitals in the city streets.
Florida Stripper Kills Partner, Stabs Him In Eyes And Shoves Wood In Throat
A Key West, Florida, man died Tuesday after an alleged attack in his home by his male stripper partner, according to Florida Key News. He was allegedly stabbed in both eyes and had a piece of wood shoved down his throat.
Mark Brann, 67, had to be airlifted to a Miami trauma center after the attack. He suffered severe head trauma. The partner, Justin Calhoun, 24, of Tampa, Florida, is being held without bail and is charged with second-degree murder after admitting to the attack, according to a police report. Calhoun is listed in police records as identifying female, being homeless and working as a stripper.
Why did no one save little Elsie? Social services visited gay father who murdered his adopted daughter FIFTEEN times but failed to intervene - even after she had broken her leg and 'fallen down the stairs'
Matthew Scully-Hicks, 31, shook Elsie Scully-Hicks and threw her down on floor
He denied murdering her but was found guilty by a jury after a four week trial
Murder came just two weeks after he adopted her with his husband Craig, 36
Social services face an investigation to see if they missed chances to save her
Staff members visited the couple fifteen times and still raised no concerns
Before her death she had previously suffered a broken leg and mystery bruises
Prosecutors have said medical evidence was crucial in Scully-Hicks' conviction
Why did no one save little Elsie? Social services visited gay father who murdered his adopted daughter FIFTEEN times but failed to intervene - even after she had broken her leg and 'fallen down the stairs'
Devonte made national headlines after he was photographed hugging a police officer in a protest in 2014. He asked the neighbours to leave food for him in a box out of their house because his mothers were punishing him by not feeding him.
Another child of the lesbian mothers came to the neighbour's home in 2017 in the middle of the night to ask for protection because she was not treated well by her mothers.
Another daughter of the pair, aged 12, had no front teeth.



8. Christianity's Beliefs on Homosexuality
CARM - Christianity and Homosexuality
Bible.org - Homosexuality: Questions and Answers
CatholicBible101 - Homosexuality
OpenBible - Twelve Bible Verses About Homosexuality
CARM - What Does the Bible Say About Homosexuality?
The Abnormal Cannot Dictate What's Normal
Those who believe or teach that sodomy is either "normal" or not sinful have separated themselves from the true teaching of the Orthodox Church and go against the laws of nature.
---
9. Transgenderism
Lesson from History: Transgender Mania is Sign of Cultural Collapse - Camille Paglia